My Team
When you became my client, you placed your trust in me to help make your vision a reality. I honor that trust with the help of my expert support staff. Together, we make a strong commitment to customer service.
If at any time you have a question, concern or need, please let us know.
Maria Elena Benton, MBA
Associate Financial Representative
Office 518-822-9576

Maria Elena joined John Jacobs' team in 2013. She is responsible for coordinating all case prep for our Life Insurance clients. From the preparation of comprehensive financial plans, to initiating the application process and coodinating underwriting and closing, Maria Elena assists with all phases of implementation and makes sure that what we promise is delivered in a timely manner.
Maria Elena earned her Bachelor's Degree in Busines Administration in Mexico City and her MBA from SUNY Albany. She is FINRA Series 6 and 63 licensed, as well as life and health insurance licensed.
Maria Elena resides in Claverack, NY with her husband Tom. In her free time, she enjoys reading, hiking, participating in trivia games, going to the movies and traveling domestically and internationally.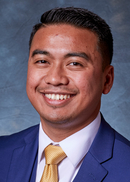 Ralph Joselle Dolor Jusi
Director of Marketing and Client Services
Office 518-822-9576
Mobile 845-705-3042

Ralph joined John Jacobs' team in 2017. He is responsible for designing and implementing a marketing strategy for John's practice. He also provides assistance to clients for any service requirements they may need.
Ralph earned his Bachelor's Degree in Business-Economics with a concentration in Finance from SUNY Oneonta. He is life and health insurance licensed.
Ralph Lives in Stanfordville, NY. In his free time he enjoys traveling, playing sports, listening to music, and reading.